The responses to that post have been both overwhelming and encouraging. They've confirmed what I've always known but sometimes forget - we are not alone.
We are not alone in our feelings, our fears, our failures, and most importantly, our faith.
We know we have been given more than enough grace for every need and task before us.
What we need is each other - to remind us of these truths - to love us, to encourage us, to spur us on, to pick us up when we fall down, and remind us that we are not alone.
Truly grateful this Monday for an endless list...
grace, grace, grace....

more friends than I deserve

medicine

kindness of a stranger who knew I'd reached the end of my rope

humbling, adorable letter from our precious Diego in Guatemala

a daughter who stayed home from Africa with more courage than it would have taken for her to go

air-conditioning

friends who pray

a gift of beans and rice and cornbread

fresh flowers on the table

roses...and thorns

hard lessons

laughter

rain

communion

another day
Counting thanks in community with
Ann
. Won't you join us?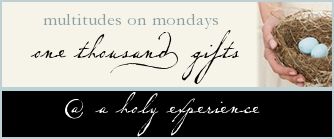 Photos: from the archives, for which I am also grateful.