\
A lovely long weekend of Diptychs...
...because two are better than one.
Two are better than one, because they have a good reward for their toil. For if they fall, one will lift up his fellow. But woe to him who is alone when he falls and has not another to lift him up! Again, if two lie together, they keep warm, but how can one keep warm alone? And though a man might prevail against one who is alone, two will withstand him—a threefold cord is not quickly broken. ~ Ecclesiastes 4:9-12
I'm counting thanks in community with Ann today - for "twos that are better than one"
...
my husband Louis and my beautiful Emily, who still meet my every need - cooking, cleaning, making up the bed, and helping in a multitude of ways as my health improves each day
Joyce C and Marilyn and the hearts-knitted-together journal of gratitude we share
crispy apples and sweet bannanas
grapes and cherries
homemade yogurt and zucchini muffins from the bakery
fellowship and worship with the Body of Christ
purple berries trailing the fence and bringing beauty in a vase to the table
Louis singing grace - the only song he says he knows - to sleepy Addisyn on his chest
red brick churches and wooden backyard swings
summer's August greens and the hints of fall in the yellowing sweetgum leaves
afternoon naps and thunderstorms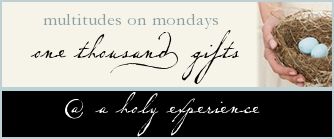 Photos: from a long weekend with two trips (one to Lake Placid and the other to church) and two outdoor wanderings on Pollywog Creek