There are two reasons I love the month of August: the green-tinted lenses through which we view the rain-nourished world around us, and though it's only a minor seasonal fact that has little to do with the weather, August is the last full month of summer. It's hump-month, and we'll soon be delighting in cooler mornings and pleasant evenings and no mosquitoes. Soon.
But I also promised myself long ago that I'd never wish my life away in anticipation of something in the future. To not fully delight in the gifts of the moment is both foolish and ungracious, for it's not only all I really have, it's abundantly more than enough.
A multitude of gratitude for a week of more than enough...
the color green - dotted with rippening beautyberries, a blazing flamebush, a large hanging basket of summer blue torenia (thank you Patti), dangling clusters of wild grapes, and a grazing brown cottontail

my backyard swing

a lovely afternoon with a kindred-spirit writer friend and a pot of fresh-brewed vanilla nut coffee

a block-building morning with my favorite four-year-old

Georgia peaches (thank you Pat and Jane) baked with blueberries in a cobbler for lunch

more family for lunch and lingering to chew on the Word after eating

clapping and singing with the sweetest baby girl

my beautiful Emily - who sacrifices to help me more than ever

my dear husband - who sacrifices sleep and so much more

warm from the oven banana chocolate chip muffins

dear Marilyn and the prayer shawl she knits and the gratitude journal that passes between us

Oswald Chambers and Sarah Young and their words that encourage every morning
Counting thanks in community with
Ann
. Won't you join?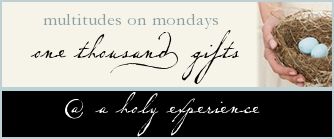 Photos: A brief step outdoors a time or two - in the backyard and along the thickets by the creek